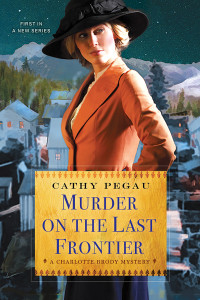 Out now from Kensington Books!
There's many who feel the Alaska Territory is no place for a woman on her own. But Charlotte Brody, suffragette and journalist, has never let public opinion dictate her life choices. She's come to the frontier town of Cordova, where her brother Michael practices medicine, for the same reason many come to Alaska—to start over.
Cordova is gradually getting civilized, but the town is still rougher than Charlotte imagined. And when a local prostitute—one of the working girls her brother has been treating—is found brutally murdered, Charlotte learns firsthand how rough the frontier can be. Although the town may not consider the murder of a prostitute worthy of investigation, Charlotte's feminist beliefs motivate her to seek justice for the woman. And there's something else—the woman was hiding a secret, one that reminds Charlotte of her own painful past.
As Charlotte searches for answers, she soon finds her own life in danger from a cold-blooded killer desperate to keep dark secrets from seeing the light of day…
Pick up your copy at Amazon.com B&N Kobo Amazon-Canada Amazon-UK Amazon-Australia
Some other people's thoughts on Murder on the Last Frontier…
"Charlotte's newcomer eyes give us a wonderful sense of a town on the cusp of change, yet very much carrying the age-old vices. Though the dead girl Darcy, the madam Brigit, and others in the house of "ill repute" are not stereotypical "whores with hearts of gold" – Pegau's characterization is more nuanced and compelling than that…" ~Miss Bates, Miss Bates Reads Romance
"By setting this entirely within a family-friendly environment, [Pegau] grants herself the permission to slyly, in a clever and surreptitious way, interject a premise to an audience that normally might say no, not interested in reading about these sorts of sordid scenarios. And therein lies the sweetness of her delivery." ~David, The Anchorage Press
"Charlotte Brody establishes herself as a smart, likable character readers will want to continue to spend time with. Pegau did her homework on the Alaska Territory, and the setting of Cordova in the 1920s is as interesting as the story itself." ~Terri, RT Book Reviews
"Little details shade in the era and the characterization is subtle but memorable." ~Jayne, Dear Author
"Each individual we meet in the town of Cordova feels like he or she has a backstory, and is the star of their own lives….[Charlotte's] ideas may be modern, but she's clearly a product of her time period and her experiences." ~Melanie, All About Romance
"An ongoing series lives or dies on the appeal of its protagonist, and in that regard Pegau has hit a home run with Charlotte Brody…You can feel Cordova in every scene, touch and scent especially drawing the reader into the moment. Ultimately, all of this goes to serve a twisting, pulse-pounding plot that kept this reader up at night. Quite frankly, I couldn't put it down." ~Addley Fannin, Fairbanks Daily News-Miner