Woo hoo! Borrowing Death, the second book of the Charlotte Brody Mystery Series hits the shelves, gets shipped from your favorite store, gets downloaded into your ereader of choice TODAY!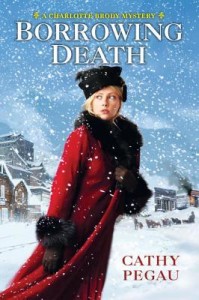 So very excited! I'll be posting about the book, answering questions if y'all have them, that sort of thing over the next few days. But for today, I want to enjoy the fact Charlotte and company are out there again (still?).
What's this second story about, you ask? Well, it's November, 1919, and Charlotte's been in Cordova for a few months. (ICYMI, in the first book, Murder on the Last Frontier, she'd just arrived in town that August/September.) Winter is setting in, but life is never dull in the Great Land.
Suffragette and journalist Charlotte Brody is bracing herself for her first winter in the frontier town of Cordova in the Alaska Territory. But the chilling murder of a local store owner is what really makes her blood run cold. . .
After three months in Cordova, Charlotte is getting accustomed to frontier life. She is filing articles for the local paper–including a provocative editorial against Prohibition–and enjoying a reunion with her brother Michael, the town doctor and coroner. Michael's services are soon called upon when a fire claims the life of hardware store owner Lyle Fiske. A frontier firebug is suspected of arson, but when Michael determines Fiske was stabbed before his store was set ablaze, the town of Cordova has another murder to solve.
Her journalist's curiosity whetted, Charlotte begins to sort through the smoldering ruins of Lyle Fiske's life, only to discover any number of people who might have wanted him dead. As the days grow shorter, Charlotte's investigation turns increasingly complex. She may be distant from the trappings of civilization, but untangling the motives for murder will require plumbing the very depths of Charlotte's investigative acumen. . .
Here are some things that folks are saying about Borrowing Death.
"These new mysteries are a great mixture of history, mystery and a little bit of romance. The characters and setting are well-written and readers will be waiting impatiently for the next installment to come out." ~Mary Lignor, Professional Librarian and Co-Owner of The Write Companion for Suspense Magazine (full review link coming)
An "entertaining follow-up…the reporter's penchant for encouraging the aspirations of a local girl, hanging out with the town madam, snooping in neighbors' houses, and employing hairpins as lock picks will satisfy." ~Publishers Weekly (full review here)
In celebration of Borrowing Death officially being out in the world, I'm giving away a few items from Cordova or that represent Cordova and Alaska.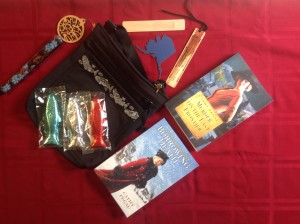 Signed copies of Murder on the Last Frontier and Borrowing Death
Copper River Fleece (local merchant) satchel with salmon and bear print trim
Copper River Fleece forget-me-not headband
3 salmon-shaped chocolates (dark, milk, and white)
2 wooden bookmarks
Alaska pin
Wooden fish ornament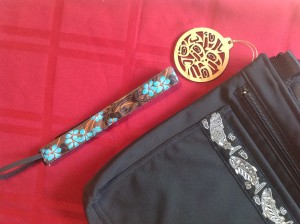 How do you win this lovely loot (over $100 in value)? I'm an old-fashioned sort of gal, so we're doing this the old-fashioned way:
(1) Leave a comment below (Please play fair and leave just one comment/entry. Multiples will get tossed out) with a VALID email address. This is important! I need to be able to contact you.
(2) At the end of the giveaway, Tuesday, July 5, 2016 at midnight Alaska time, I'll randomly choose a winner via a number generator, email that person and give them 48 hours to reply.
(3) If I don't get a reply from that person in the allotted time, I will choose another winner. Sorry, but we can't leave folks hanging, right?
(4) This is open to anyone, anywhere, but depending on your location the prize package could take some time to get to you. I'll give you a heads up when it goes out and an estimated arrival date.
I promise not to spam you or do anything with your contact info except contact you personally as needed.
Anything else? If you have questions, shoot me an email at cathy@cathypegau.com with the subject line "BD giveaway question" or something like it so I know you aren't spam,  or on Twitter @CathyPegau
And if you simply CANNOT wait…
Buy Borrowing Death at these fine locations, in brick and mortar stores, and elsewhere:
Kensington Books http://tinyurl.com/BDKens
Amazon USA http://tinyurl.com/BDusAmazon
BN http://tinyurl.com/BDbnusa
Amazon UK http://tinyurl.com/BDAmazonuk
Amazon Aus http://tinyurl.com/BDAmazonaus
Kobo http://tinyurl.com/BDKobo
Thanks so much!!! Good luck!