Woo hoo! Today's the day!!!!! Murder on the Last Frontier is officially out in the wide world!!!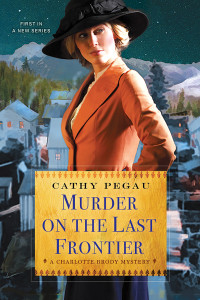 Am I excited? Just a wee bit 🙂
MotLF has been getting some mixed reviews (You can find them at GoodReads and Amazon, mostly) but overall people seem to enjoy the series. The setting, Alaska in 1919, and Charlotte's identity as a suffragette are often noted as the draw. That's cool. I like being a little different ; )
Let's start this grand day with a giveaway of some ARCs (Advanced Reader Copies). They aren't the "out in the store" prints, having the disclaimer of some minor, uncorrected boo-boos, but those who have read them haven't pointed out issues.
If you'd like an ARC, leave a comment saying so. Make sure there's viable email address so I can contact you for your mailing address (DO NOT put that in the comment. We don't want you to have issue.) I am willing to send wherever. Yes, internationally. I'll give away 5 or 10. We'll see 😉
Thanks for sharing this with me!
Buy Murder on the Last Frontier on Amazon B&N Kobo and other fine retailers : )