To promote my latest release, Borrowing Death, I had scheduled a couple of signings in the Anchorage/Palmer area (Thanks, Barnes & Noble-Anchorage and Fireside Books in Palmer! You all rock!). In a brilliant fit of inspiration, my husband suggested we take a side trip to the remote (yeah, I know, Alaska…What ISN'T remote? ; P ) historical Kennecott/McCarthy.
The Charlotte Brody series has so far been set in Cordova in 1919/1920, but I have a proposal for the possible next three books in the works and #4 is mostly set in Kennecott/McCarthy. So far, I'd only had photographs and historical accounts I found on the internet, at the local museum, or gleaned from chatting with folks who had visited, to spark a story. I won't deny the excited flutter I experienced at the idea of getting a real feel for the trek to the mine/town site. So, we made our ferry reservations and found a place to stay.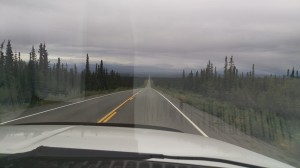 Getting There
We live in a town that is only accessible by boat or plane. The decision to take the ferry was logical, as (1) we had planned to do some quarterly grocery shopping while in Anchorage, and (2) flying meant renting a car which (2-a) is pricey in Alaska in summer, and (2-b) many rental places prohibit taking their vehicles on certain roads (more on that in a bit). Originally, we were looking at riding the ferry for 6 hours then possibly driving another 8+ to the site. Husband considered options and felt adding a 6 hour leg to a closer ferry stop and driving less might be shorter, or at least less exhausting. It wasn't, we found out later.
We left Cordova at 5am and arrived in Valdez at 6:30pm. By the time we
stopped for food and gas and headed out of town, it was 7:30. No problem. Still pretty light, despite the clouds and spitty rain. And gorgeous? We were trying to move along so I didn't get many pictures, but believe me when I say the Richardson Highway out of Valdez is incredible in a scenic sense.
We turned off the Richardson at Chitina and onto the Edgerton Highway at 9pm with 63 miles to go. Now, on a designated highway in most places, that would be an hour-ish. Not so, here. The Edgerton, while amazing as far as scenery, is a bit winding, only partially paved and mostly not. Recent rains had essentially reversed the last grating. To say it was bumpy is an understatement. By now, it was starting to get darkish and my husband was having a grand time (/sarcasm) avoiding the potholes. Suffice it to say, we rattled a lot, and the final 15-20 miles was slow and rough.
The Kennecott River Lodge at the very end of the road, before foot access across the Kennicott River, was a welcome sight at 11pm. We parked outside our appointed cabin. I walked behind our pickup and noted something odd.
"Honey, what happened to the window of the camper shell?"
Yep, we'd lost the rear window somewhere along the 63 miles of "highway" but there was no sense worrying about it at that point. Luckily, there was only light rain in the forecast, and covering the opening with plastic and duct tape (all good Alaskans travel with some sort of heavy duty tape) would do for the time being.
"We'll look for it on our way out," DH said, and we went to bed.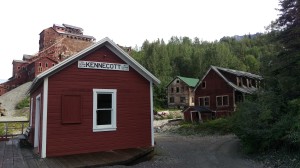 Kennecott/McCarthy
The next morning, we walked across the river foot bridge. The water was rushing beneath us, shaking the pilings. DH recalled having to use a hand-operated tram when he and his friends visited 30 years prior. I was very glad the National Park Service had opted to build the footbridge when they purchased the area in the 90's. A shuttle van would take us to McCarthy a mile away or to Kennecott, 5 miles in. We opted to start at Kennecott, a self-contained town back in the day at the base of what was a huge copper mine.
As with the Edgerton, the road was pitted and rough, but we had a nice time chatting with fellow passengers. Something that surprised me was the number of private homes/lands within the boundaries of the Park. Apparently, when the NPS opted to buy the site, there were so many private holders that they arranged to let them stay. People who live there mark their property so visitors don't trespass unwittingly. Part of me was envious of their "backyard" but then I'd recall the effort of getting to it. Not something to do on a regular basis.
The van pulled into the Kennecott town site and I was immediately in awe. Pictures don't do it justice, and the combination of renovated, partially renovated, and "left as is" buildings is an amazing testament of what was and how time and nature ravage what man makes. The NPS have been restoring Kennecott, recreating a town site that was essentially abandoned in the late 1930s and hardly looked at for the next 60 years. People were more or less free to come and go. Somehow, over all that time and neglect, a good number of the buildings were still standing, or standing enough to be fixed. Some, however, were beyond help and had deteriorated on their own or were razed for safety's sake.
There are a number of buildings the public has access to on their own,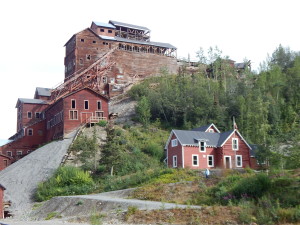 but to get a better sense of the main mining operation (a goal for the research portion of the trip) we took the 2-hour long mill tour offered by St. Elias Alpine Guide Day Adventures. Our tour guide, Annie, gook the 14 of us through the town and into several closed buildings, including the huge mill where copper ore was processed. The mill, the town, everything is incredible in its engineering and self-sustainability (for the most part). The people who made it work, from the engineers to the manager to the miners to the supporting townsfolk, were made of sterner stuff than any of us 21st century dwellers could imagine.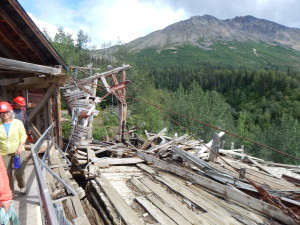 We spent 8 hours or so in Kennecott, putting 10 miles on DH's pedometer, then took the shuttle over to McCarthy, 4 miles away, so we could catch the museum there during open hours. McCarthy was the answer to Kennecott's more upright/uptight rules, providing miners with drinking, gambling, and women that the company town forbade or frowned upon.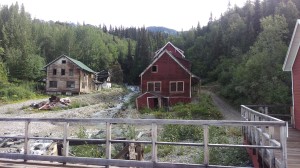 My head full of history and story bits, we returned to our cabin across the river and fell into deep sleep.
 Back Toward Civilization
The next morning, we woke relatively early and headed to the café down the road for some coffee before facing the Edgerton's 63 miles of window-snatching surface. As we were not in a great rush, we stopped along the way for pictures. The scenery was more incredible in the full light of day, and I easily imagined Charlotte being awed by it as she passed through on the train. And I imagined it was a MUCH smoother ride. The railway was trestled in a number of places to avoid sharp turns and hills.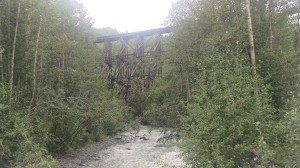 Along the way, we kept an eye out for our missing window. My fear was it had broken and I didn't want anyone to get a flat tire on that highway. Lo and behold, 43 miles from Kennecott, I spotted the window leaning against a rock on the side of the road. Someone had seen it, set it on the out-going side, probably figuring, "They'll be by sooner or later." Yep! Thank you, anonymous person! And to our surprise, the window wasn't broken nor the frame bent. DH was sure he could get it back in place with the right materials (he did).
The next couple of hours took us through more gorgeous country as we headed to Anchorage. It's impossible to travel through Alaska without finding amazing scenery. There are times I don't see the beauty of the place where I live, as there are often too many distractions of mundane life. But a trip like this, short as it was, is a great reminder.