(Gratuitous pic of adorable great-nephew : )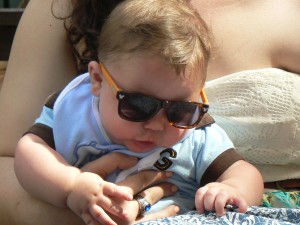 We traveled back to the east coast to attend graduations and visit with my family. Yes, I'm an east coaster by birth. I love my crazy family and experiencing the hustle and bustle of NYC and all, but every time I go back I'm grateful I live a more relaxed lifestyle.
New York is still *home* because my mom, siblings and their families all live there, and I'm comfortable being with all of them, but this is not where I feel *at home*, if that makes sense. I don't know the towns like I may have 30 years ago. I don't really feel comfortable driving on anything but the most quiet (for them) roads.
When we went into the city to visit the American Museum of Natural History (a place I hadn't been in 15 years), we rode the train from Long Island and trekked through Penn Station to the subway platform we needed to go right to the museum. I love train/subway travel as a way to go, but I felt a bit lost in my own backyard, as it were. How could I have navigated the London Tube while escorting 14 teenagers with nary an eye twitch, yet finding the right subway at Penn made me feel like a wide-eyed…tourist?
Because that's what I was. I can *say* I'm from New York, but I'm too far removed from living there nowadays to actually consider myself a New Yorker any longer. I'm an Alaskan.
So I embraced my new status of tourist. We took a brief walk through Central Park, gawked at the lights of Time Square, marveled at the huge buildings and the number of people crowed in such a tiny space. It was relaxing, in a way, to NOT have to know the area. And FYI, New York police officers are very kind and patient when giving directions : )
Another location we were able to play tourist was out at the east end of Long Island, in Montauk. The island is shaped like a fish with its head being Manhattan and the other boroughs to the west and the forks of the tail to the east. The northern fork is Orient Point. The southern is Montauk. My sister and her husband spend St. Patrick's Day weekend at this nifty motel near the beach. For my nephew's graduation, she got a good deal on rooms and we spent several days hanging out, barbequing and enjoying the sun and surf.
I had never, in my entire life, been out there, so it was great fun to discover the area with my own family. We borrowed my brother-in-law's car and headed to Montauk Point lighthouse.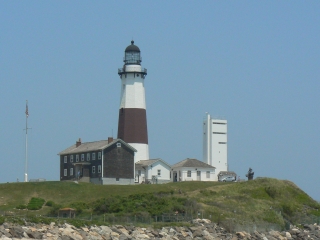 What a cool place! Walking up the narrow stairs wasn't nearly as bad as I'd expected, but I don't think I'd want to do it every day : P  Still, lots of history that was fun to learn.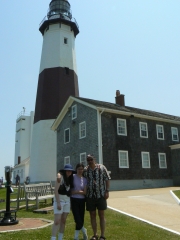 I'm not sure when we'll go back for a visit, but when we do I'm going to look into going to other places to play tourist. And I'm okay with that. Besides, it'll get me out of having to drive alongside those crazy New Yorkers ; P