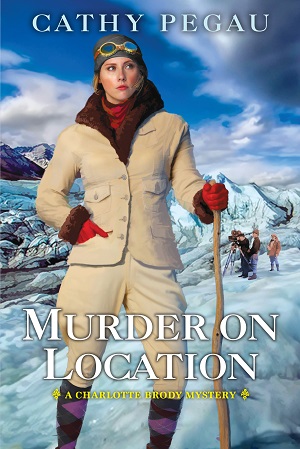 Writers are often asked, "Where do you get your ideas?" For the Charlotte Brody Mystery series, my answer has been, "Local history." For each book, I gleaned some bit of Cordova's past and worked it into the story, with literary and artistic license, of course.
I used a local's tale about the death of a "sporting woman" in Murder on the Last Frontier. In Borrowing Death, the cover up of a local businessman's murder with a purposely set fire was an actual news item I read while perusing old editions of the Cordova Times.
The influence for Murder on Location, and its film-within-a-book North to Fortune, was a 1924 silent movie called The Cheechakos. This was the first full-length movie filmed entirely in Alaska. The man responsible for it, Austin "Cap" Lathrop, had hoped his film company, Alaska Moving Pictures, would produce more, but The Cheechakos was its only distributed work.
My Kid and I had the pleasure of attending a local screening of The Cheechakos while I was contemplating a premise for Charlotte's third story. Kid suggested I have someone die during the filming of a similar movie, and Murder on Location was born. The idea of a Hollywoodland, California, crew experiencing Alaska sounds like a fun way to stage a murder, don't you think?
In the Alaska Territory, suffragette Charlotte Brody is a newspaper reporter in the frontier town of Cordova. She's a woman ahead of her time living on the rugged edge of civilization—but right now the most dangerous element she faces may come from sunny California . . .
 
An expedition has arrived in the frigid wilderness to shoot North to Fortune—an epic motion picture featuring authentic footage of majestic peaks, vast glaciers, homesteaders, and Alaska Natives. But the film's fortunes begin to go south as a local Native group grows angry at how they're portrayed in the movie, fights break out, and cast and crew are beset by accidents and assaults. Finally, production is halted when the inebriated director falls into a crevasse—and dies of exposure.
 
Soon Michael Brody—the town coroner and Charlotte's brother—starts to suspect that Mother Nature was not responsible for Stanley Welsh's death. Charlotte, who's been writing about all the Hollywood glamor, is suddenly covering a cold-blooded crime story—and as springtime storms keep the suspects snowed in, she has to make sure the truth doesn't get buried . . .
Pick up Murder on Location just about anywhere!
And other fine retailers!