This 3-day hop for authors and readers of GLBT fiction is hosted by the
Marketing for Romance Writers (MFRW) Organization
. Lots of great authors are participating and you'll have an opportunity to sample their novels through excerpts and more. And prizes to be had! Be sure to leave a comment on each blog for your chance to win at each stop.
The twenty-two rules developed by Pixar story artist Emma Coates have been floating around for some time now. No one can argue the success of Pixar stories. No matter what you see, from their shorts to their full-length movies, you will be given a well-rounded story with fully developed characters. The Pixar Rules may have been developed for a visual medium, but storytelling is storytelling. The Rules are essentially the same in motion pictures as they are for novels.
Writing lesbian romantic fiction is no different to than writing hetero romantic fiction, so to be honest the Rules I selected aren't specific to one or the other. But I'll tailor the three I selected to my latest release from Carina Press, Deep Deception.
#14: Why must you tell THIS story? What's the belief burning within you that your story feeds off of? That's the heart of it.
Deep Deception came about as I was writing my second science fiction romance, Caught in Amber. I'd used the one character, Natalia Hallowell, in minor roles in CiA and in my debut novel, Rulebreaker. She was always more complex than her bit parts suggested. And when Genevieve Caine popped up in CiA, I knew the two of them would make a great pair. I HAD to get their story out. Once I found a plot and a sub plot it was off to the races.
#16: What are the stakes? Give us reason to root for the character. What happens if they don't succeed? Stack the odds against.
Natalia is trying to keep her job and Gennie needs to protect her family. Noble causes. And if they don't succeed? Well, Natalia might end up in a correctional facility if she's charged with taking bribes. That's not good. Gennie could lose everything she loves. That's not good either. But wait! In the words of Donald Maass and other gurus of fiction, make things bad for your characters. Then make them worse. Now make it worse than that. Not only do Natalia and Gennie have those threats against them, they could be killed along with others. (I won't go into spoiler details ; )
#21: You gotta identify with your situation/characters, can't just write 'cool'. What would make YOU act that way?
Identifying with your character and/or their situation requires putting a bit of yourself on the page. Sometimes it requires ignoring the fact you don't possess certain skills, but that's beside the point. Skill isn't the issue. I'm not trained as a government agent (or am I???). I've never shot anyone to save a loved one. You have to ask yourself, as a person, what you'd do. How you'd react. But at the same time, you have to know your characters well enough to show what they would do.
And staying in character is important. My tough government agent Natalia didn't have much to say in the first two books, but since she's a main player in Deep Deception, readers get to see her more clearly. One commented on this, saying Natalia's sudden chattiness and all felt off. Well, sure, I can understand that because Natalia didn't get a lot of screen time in the first books. Now that I had the chance to show her side of things, she let her personality and her feelings out. To me, they were very true to her character.
Next time you read or write a story, see how the Pixar Rules apply. Every one of them will help you understand the process. Do you follow any particular rules?
MY GIVEAWAY: Leave a comment and win a copy of Deep Deception! Please check out an excerpt of Deep Deception here : )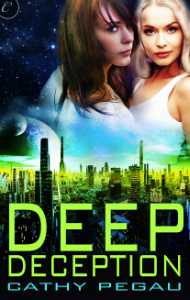 Blog Hop Goodies!!! GIVEAWAY Free to everyone! No entry needed.
Download your favorite version of the exclusive Marketing for Romance Writers  Rainbow Excerpts Book – 60 pages of erotic excerpts and samples from MFRW  authors.