You may have noticed that my Sci Spanks 2014 post Jen & Maddy is no longer up. That's because
SCI SPANKS ANTHOLOGY!!!!!!!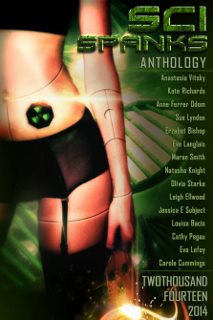 is here! The ebook anthology containing 15 of the 17 stories/authors featured in last month's Sci Spanks event are in one volume. My story, Jen & Maddy is among them. And for only $0.99 you REALLY can't go wrong here : )
There's something for everyone, if you like a little naughty or a little more ; ) I had a lot of fun creating my story and loved reading the others. Here's the Goodreads description.
Buy it at Amazon, for Kobo, and All Romance, among others!
Thanks to Kate Richards for getting the anthology together, the Cover Artisan for a FABULOUS cover, and Anastasia Vistsky for coming up with a fun idea!